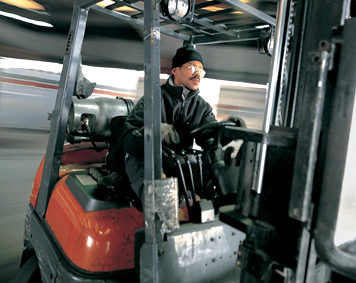 Propane fuels 670,000 forklifts in U.S. factories and warehouses, representing the largest segment of the propane internal combustion engine market. Propane forklifts are used to engage, lift, and transfer palletized loads in warehousing, manufacturing, materials handling, and construction applications both indoors and outdoors.
Propane forklifts provide the following benefits:
Produce 19 percent fewer emissions than gasoline forklifts and 7 percent fewer emissions than diesel forklifts.
Meet 2007 Environmental Protection Agency standards (forklift engines with off-the-shelf electronic engine controls and three-way catalysts).
Maintain consistent, 100 percent power throughout operation, with faster ground speeds than electric forklifts.
Refuel quickly — it takes less time to fill a propane tank than to switch or charge a battery.