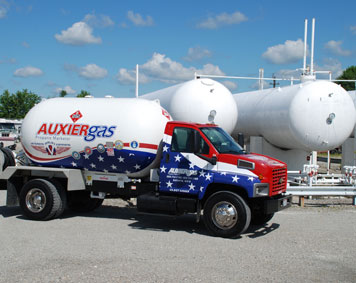 Auxier Gas helps give veterans a lift when they need one.
Imagine returning home from combat, facing devastating injuries, and long-term hospitalization in a facility hundreds of miles away from your family. Imagine somebody can bring you together. Auxier Gas joined forces with the Veterans Airlift Command (VAC) to help them achieve their mission's goal. The VAC is a national organization that provides free air transportation to wounded veterans and their families for medical and other compassionate purposes, through a national network of volunteer aircraft owners and pilots. They focus on the veterans of Iraqi Freedom and Enduring Freedom (Afghanistan).
As part of our effort to be actively involved in our local communities, Auxier Gas currently makes a donation to the Veterans Airlift Command for each gallon delivered to our customers by the VAC Truck. The truck will be making deliveries throughout the Southwest Ohio and Northern Kentucky areas, as well as participating in local parades on National holidays.
Our newest propane delivery truck is a patriotic-themed truck and is decorated to celebrate patriotism, the five military divisions, and the Veterans Airlift Command. The Veterans Airlift Command worked with Auxier Gas to design the truck, and it is the only one of its kind in the nation supporting the VAC.
Not only is Auxier Gas making a donation, but we are giving our customers the opportunity to make a contribution as well. Customers just have to add their contribution to their bill total and we will happily forward the contribution on to the Veterans Airlift Command. For more information or to make a contribution, please contact Auxier Gas at 513-724-7700.