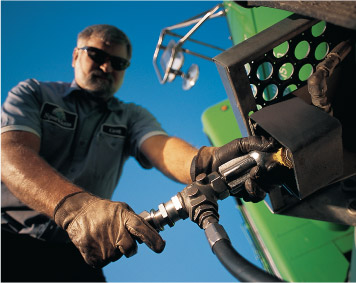 Auxier Gas has many different options to serve the propane needs of both Commercial and Residential Customers
Commercial customers use propane to perform unique processes, heat their businesses, and operate forklifts and fuel their fleets with autogas.
Propane is an efficient choice for commercial customers because it is a clean burning fuel, and helps to cut down on pollution.
Auxier Gas will install the propane tank, run the line, and perform a check of your gas appliances. Auxier Gas delivers propane tanks for forklifts on a regular schedule to keep your equipment and product moving.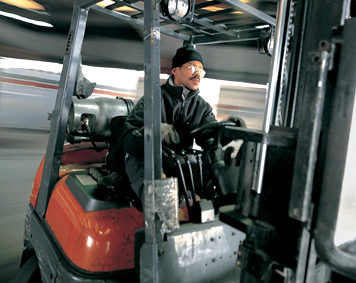 Propane fuels 670,000 forklifts in U.S. factories and warehouses, representing the largest segment of the propane internal combustion engine market. Propane forklifts are used to engage, lift, and transfer palletized loads in warehousing, manufacturing, materials handling, and construction applications both indoors and outdoors.
Propane forklifts provide the following benefits:
Produce 19 percent fewer emissions than gasoline forklifts and 7 percent fewer emissions than diesel forklifts.
Meet 2007 Environmental Protection Agency standards (forklift engines with off-the-shelf electronic engine controls and three-way catalysts).
Maintain consistent, 100 percent power throughout operation, with faster ground speeds than electric forklifts.
Refuel quickly — it takes less time to fill a propane tank than to switch or charge a battery.
Propane Autogas will help you: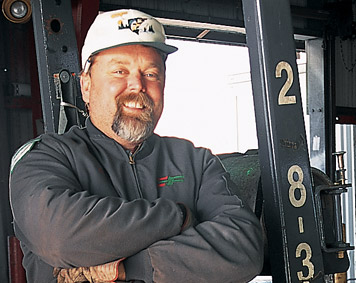 Propane has a strong, unpleasant smell like rotten eggs, a skunk's spray or a deceased animal. Manufacturers add the smell deliberately to help alert customers to propane leaks. Teach everyone in your home what propane smells like, and always take action if you smell any foul odor.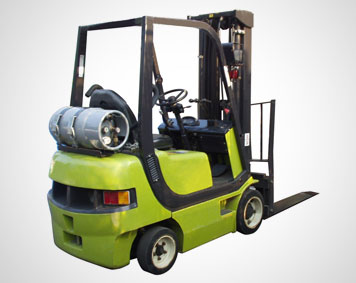 We provide a variety of options to suit your propane needs.
Auto-Refill:
Using the latest technology, we can monitor your propane usage by degree-days to accurately forecast when your tank needs filled.
Will Call:
We believe Auto Refill is the ideal solution for our customers. We do offer Will Call Refill, where YOU the customer must monitor the level of propane in the tank and call us when it reaches 20% or 5 days supply. Will call customers pay more per gallon than Auto Refill customers.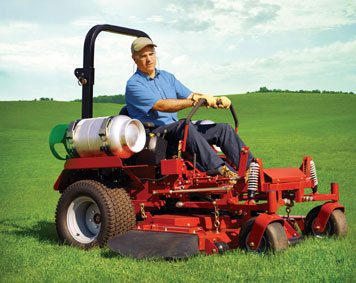 Replacing gasoline as a fuel source in commercial and residential mowers helps decrease our nation's dependence on imported oil, and improve our air quality. Autogas has conversion kits that enable gasoline-fueled mowers to use propane, allowing users to save fuel costs and help keep the environment clean.
Propane-fueled mowers offer the following benefits:
A viable pathway for complying with federal alternative fuel vehicle requirements for fleets.
Simple, often on-site, refueling processes.
Cost-effective development of on-site refueling infrastructure.
Purchase or conversion rebates and incentives offered by federal and state organizations.
Tax credits and exemptions on refueling costs.
Almost 50 percent reduction in greenhouse gas emissions and 80 percent reduction in carbon monoxide.
Elimination of the potential for fuel theft and spillage.
Save Money
You can cut your operating and fuel costs substantially by converting your existing fleet vehicles to autogas. Historically, propane autogas costs less than gasoline or diesel and is more insulated from the price spikes conventional fuels experience. Autogas costs on average at least $1.50 less per gallon than gasoline and the implementation costs are significantly less than for other alternative fuel options.
If You Smell Gas:
NO FLAMES OR SPARKS: Immediately put out all smoking materials and other open flames. Do not operate lights, telephones, appliances or cell phones. Flames or sparks from these sources can trigger an explosion or fire. 


LEAVE THE AREA IMMEDIATELY: Make sure everyone is out of the building or area where you suspect gas is leaking.


SHUT OFF THE GAS: Turn off the main gas supply valve on your propane tank, if it is safe to do so.


REPORT THE LEAK: From somewhere away from the propane leak, call your propane retailer right away. If you can't reach them, call 911 or your local fire department. 


DO NOT RETURN TO THE BUILDING OR AREA: It may be unsafe to do so. 


GET YOUR SYSTEM CHECKED: Before you attempt to use any of your propane appliances, have a qualified service technician check your entire system to ensure it is leak-free.
Go Green
Autogas brings reliable, low-emission vehicles and equipment to fleets, industry, and the everyday driver. These innovative vehicles and equipment can provide public transportation, expedite manufacturing operations, and serve as personal vehicles while in many cases producing fewer greenhouse gas emissions than gasoline or diesel options. Autogas is a clean-burning alternative fuel that substantially reduces greenhouse gases and other harmful emissions when compared to gasoline or diesel. Converting your vehicles with Auxier Gas means your fleet will be green. Autogas is among the lowest total carbon emissions fuels, showing a 20% reduction in emissions versus gasoline or diesel.
Auxier Gas' safety program
Auxier Gas offers an award-winning preventive maintenance program called GAS Check® (Gas Appliance System Check). Trained technicians inspect entire propane systems and appliances to ensure they are running safely and efficiently, so consumers can save money and enjoy a healthy environment. The program also educates homeowners on the proper maintenance of propane appliances and how to safely handle propane. The Certified Employee Training Program (CETP) is a nationally recognized training program for people involved in the handling of propane, equipment and appliances. CETP is being used extensively throughout the country and is continually updated and expanded. 

The objectives of the emergency response program are to increase the level of responder safety, improve efficiency to mitigate emergencies, and to encourage propane marketers and local emergency responders to develop working relations before an accident occurs. In addition to the textbook and training materials, there is a website www.propanesafety.com dedicated to the program that is continually updated, with interactive scenarios utilizing real world emergency situations. Firefighters can also get information by calling a toll free number 800.968.9484.
Case Studies at a Glance
Companies like Greenscape Services, a full-service horticulture company based in Sarasota, Florida, have saved approximately 30% on fuel with their propane fueled mowers, creating a major price advantage further enhanced by the ease of maintenance and fuel delivery.
Eric Henson, President of Competitive Lawn Service, Inc., based in Downers Grove, Illinois, utilizes six propane-fueled mowers among a fleet of 30, and one of his 10 trucks is fueled by propane. Henson plans to have both fleets completely converted to propane within five years and estimates this conversion will save his business about $2,500 a month. This translates to payback on his investment in new and retrofitted propane products in less than two years.
Contact us to learn more about how you will benefit from switching to a propane fueled mower.
Support the U.S. Economy
Support our domestic economy and help create American jobs with a fuel made right here in the U.S.A. – autogas. 90% of our nation's propane autogas is produced in the U.S., so using autogas means reducing our dependence on foreign oil. Convert your fleet vehicles to run on autogas to cut emissions, brand your fleet green and boost your bottom line.