National Pizza Day!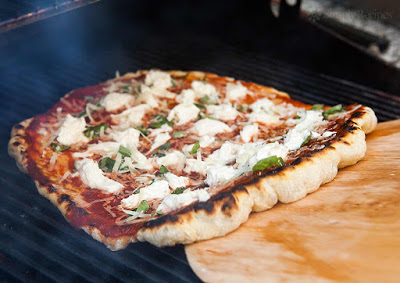 Have you ever had a Grilled Pizza? Here is a wonderful recipe from Elise Bauer on how to grill your own pizza (on your propane grill)
This is a reblog from Elise Bauer at Simplyrecipes.com
The first time I heard of making pizza on a grill all I could think of was, why would anyone want to do that?
Now that I've done it more than a few times I can think of several reasons, the first being who wants to heat up an oven to 450°F or higher on a hot summer day?
If you use a grill to make pizza, you can keep the heat outside where it belongs. Grills also better mimic a wood fired oven than your conventional indoor oven.
Whether using charcoal or gas, the smoke from the grill will help give your pizza great flavor that you simply cannot get from a regular oven.
It's also easy! No, the pizza dough does not fall through the grill grates. Assuming you've properly heated the grill, your dough will form a lovely lightly browned crust.
Read more: http://www.simplyrecipes.com/recipes/how_to_grill_pizza/#ixzz4YCHmAMrs